04 March 2016
Scorrier House Garden Opening – 24th April
Every year, for one day only, Scorrier House's gardens open to the public and this year we invite you to come and explore our garden on Sunday 24th April. We hope the timing co-insides with spring in all its glory – so expect bluebells, rhododendrons and a host of more exotic flowers in bloom.
Filled with historical relics, famous plantations and loads of Cornish history, the garden is one of the county's finest private gardens which is normally not open to public (you can read more about the history of it here). So please bring friends, children (free entry) and dogs (on leads) to explore the 10 acres of garden and enjoy homemade teas afterwards in the drawing room at Scorrier House.
All proceeds from entry and teas will go towards the charitable National Garden Scheme, which raises millions for critical charities such as Macmillan Cancer Support, Marie Curie and Hospice UK. Last year we raised over £1,000 for the NGS which in turn has donated over £45 million to nominated beneficiaries.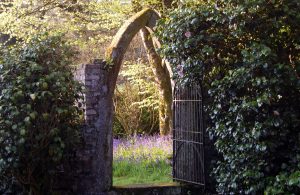 An old church gate – one of the many curiosities in the garden
If you have any questions please do get in touch here.
Back