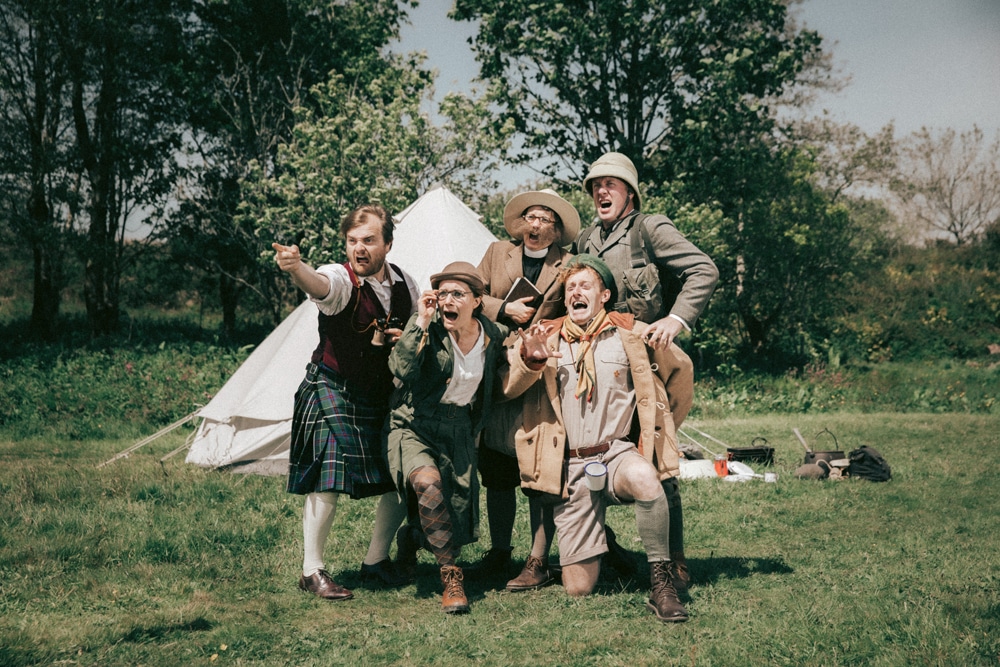 Unmissable Outdoor Theatre at Scorrier House
What better way to enjoy a summer's evening than a spot of outdoor theatre? We bring you two dates of unmissable performances, as the mystical gardens of Scorrier House are transformed into a theatrical backdrop.
Read about these two magical productions and book tickets below:
A PERFECT WORLD: 27TH JUNE
A Perfect World is a brand new action-packed adventure following a feisty young woman as she ventures into a 'Boy's Own' world of undiscovered jungles, treasure maps, campfires and penknives.
Leading her team of quarrelsome explorers she stumbles into a bountiful paradise, whose inhabitants seem entirely peaceful, productive and fulfilled.
Is this tranquil place the best of all possible worlds? Or is all too good to be true?
Find out on Thursday 27th June at 7 pm. The show will take place in the gardens of Scorrier House, and refreshments will be available inside the house itself.
Buy your ticket HERE
OLD HERBACEOUS: 6TH JULY

Kick In The Head Productions brings Old Herbaceous, a play the Guardian has called "Downton Abbey with gardening tips".
Old Herbaceous is the humorous love story of a single-minded yet gentle man with a passion for plants and is a charming one man play which has entranced sell-out audiences all around the country over the last two years.
An acute and sometimes hilarious observation of relationships between the classes in a simpler age, Old Herbaceous is sprinkled with witticisms and epithets. The evening blossoms into tender humour, much in the traditionally understated English style of the early 20th century.
As Old Herbaceous, renowned actor Giles Shenton truly lives the part of the legendary Head Gardener, Herbert Pinnegar, inviting you to feel included in a private chat from a bygone, comforting age. Keeping you engrossed, amused and emotionally engaged from start to finish, Old Herbaceous will leave you with a feeling that, perhaps, all's right with the world.
The gardening storyline will sit perfectly within Scorrier's own ancient garden, one of Cornwall's most important private gardens (read why here).
Buy your ticket HERE